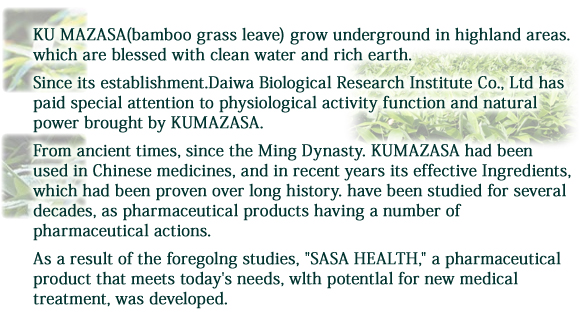 Daiwa Biological Research Institute Co., Ltd established its technical know-how in 1968, In the following year, 1969, the company's "liquid extracted from KUMAZASA" obtained approval from the Ministry of Health and Welfare. Subsequently, the company started production and sales of "SASA HEALTH," a pharmaceutical product. Effective in improving symptoms of physical fatigue, poor appetite, and stomatitis (mouth ulcers), needs for "SASA HEALTH" have been increasingly intensified from the viewpoint of health, prevention of diseases, and primary care.
Since its establishment, Daiwa Biological Research Institute Co., Ltd has been involved in marketing activities to promote "SASA HEALTH" throughout Japan.
The operation of RYOKUKENKAI, a network of pharmacies and drugstores, which is designed to study effects of KUMAZASA and provision of general pharmaceutical information, has been supported by our marketing activities.